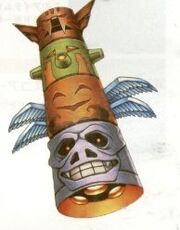 This is the unnamed stage 4 boss for Red Alarm .
Description
Edit
A high tech totem pole used by KAOS to thwart the Tech-Wing 's attack on it.
The stage 4 boss has the ability to seperate into 4 parts, the 4 heads respectively. Each head is able to fire projectiles at the player and has it's own health.